Please join us at The Rustic in our continued effort to conquer cancer while promoting a higher quality of life at our So Live's Big Give Benefit Concert! Enjoy The Rustic's delicious Southern food and bar drinks, while listening to live performances by Kevin Fowler, Dirty River Boys, and the Nick Lawrence Band.
All proceeds from tickets, donations, silent auction, and merchandise sales go to support our mission to conquer cancer! 
4 hours of live Texas Country Music
Doors open at 6:00pm
Tickets starting at $25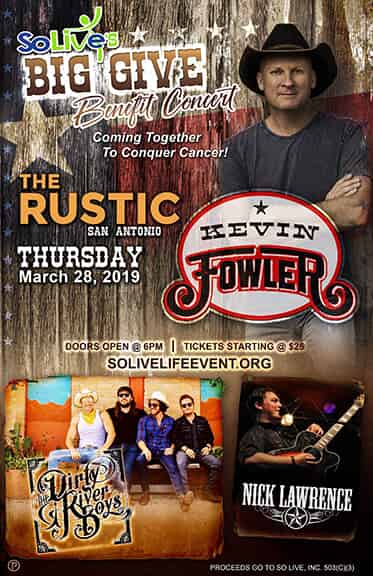 Music is powerful medicine that can fill your heart, lift your spirits, and move your body like nothing else. Moreover, its side effects can include improved circulation, supported weight loss, toned muscles, and many other anti-aging benefits. For these reasons, So Live loves incorporating musical (or theatrical) entertainment into our fundraising events. However, it has been a while since we've hosted a full-blown concert. It's time to get back to the BASS-ics, by hosting the musical genre from the heart of our Lone Star State: Texas Country Music.
We look forward to making our community a healthier and happy place together. Thank you again for your time and generosity.