Scout & Cellar
Did you know? Wine is a tricky business, because when it comes to their growth cycle, grapes tend to march to the beat of their own drum. Their natural flavor, color and growing cycle is driven by nature. To capture sameness and establish predictability, producers rely on synthetic pesticides, chemical additives and sugar, which yield a product that tastes the same, bottle after bottle, year after year. Chemical pesticides and additives also make it possible to maximize yields and hide flaws, like bacteria and other unpleasant elements. Unfortunately, this processed wine is chemically-altered and completely unnatural, and you can taste it. We're here to offer a chemical, additive-free wine, which provides more natural, altogether better-tasting wine experience to everyone. We're here to offer CLEAN-CRAFTED™ wine.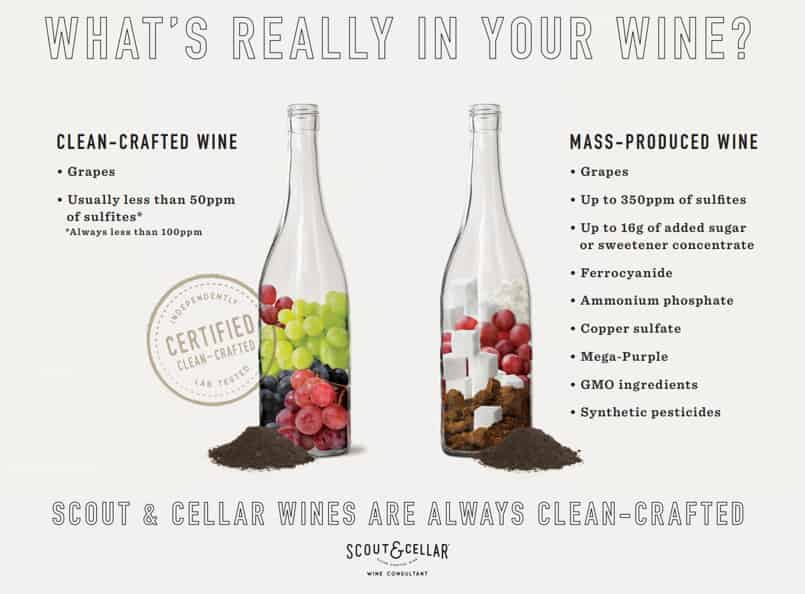 Most mass produced wine has over 16 grams of added sugar
The FDA has 250 approved chemical additives to wine
Mass produced can have up to 300 synthetic pesticides
Most mass produced wines have up to 350 ppm (parts per million) of added sulfates
Most people's side effects from wine come from the FDA approved additives
Wines labeled "Grown with organic grapes" are just that - organic grapes and then all of the chemicals are still allowed to be added during the wine making process
The majority of the $63+ BILLION wine industry is owned and controlled by 3 companies
Most mass produced grapes are picked by a machine which means ALL grapes are picked (even the bad ones)
Wine is not always vegan - many fining agents contain animal products
That information is disappointing but the good news is that Scout & Cellar is on a journey to discover the unknown good and share it along the way. Clean-Crafted wine is a term coined by our founder and level 3 sommelier. Sarah Shadonix is a 38 year old attorney turned entrepreneur! Sarah changed careers after the birth of her second child…..she followed her passion - wine. After suffering from headaches after just one glass of wine Sarah did her research and learned what was not being exposed in the wine industry. She was not OK with this. In August of 2017 she launched Scout & Cellar Clean-Crafted Wine. What is Clean-Crafted? Basically, it is wine made from grapes alone...what you thought you were drinking all along!
Our wines are clean-crafted, a term coined by our founder. Clean-Crafted means your wine is free of synthetic pesticides, chemical additives and added sugars.
We do not add any sugar to our wines.
We do not add any chemicals to our wines
Our grapes are not exposed to synthetic pesticides
Our wines contain less that 100 ppm of sulfites, most contain less than 50 ppm
Our wines are tested for hundreds of additives at 2 independent labs. It costs between $500-$1000 per testing
Every vintage is re-tested
15% of the wines we test meet our clean-crafted standard
Our grapes are tended to and picked by hand meaning only the ripe good grapes are picked
Our wines are typically ⅓ of the calories
We are keto, paleo, gluten free and low carb friendly
How do you get Scout & Cellar wine? Easy, order it online!